Mr. Lee's restaurant is in-de-making. While the Miss LEEs were the guinea-pigs. During the 3 weeks while grandparents were away, we had all sorts of different menu for our breakfast, lunch and dinner, apart from the traditional white rice with 3 dishes and a soup-of-the-day. The chef was non-other-than Mr. Old Daddy and Mr. Naked Brother.
For breakfast, we got Mr. Daddy secret recipe, the fried mash potatoes. No idea what is it? Take a peep at the healthy-looking-food.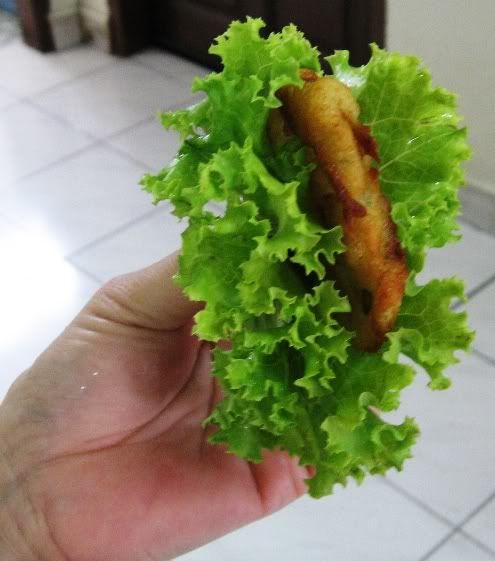 Another breakfast dish, courtesy from Mr. Naked Brother. His fish burger. With the bread substituted by the fish instead, and in between was a fried egg. Couldn't get what's in his weird mind actually. But anyway, another lovely dish. It give me the feeling of 'kids fun meal' in fast food restaurant.
Standard breakfast. Sausage, soup with a half-cooked egg yolk.
Malaysian-style cuisine, the 'Nasi Lemak'.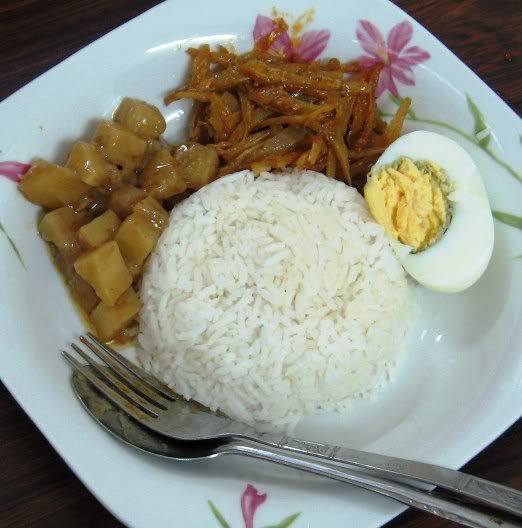 The Italian's spagetti, just make me thinks of Scuderia Ferrari again.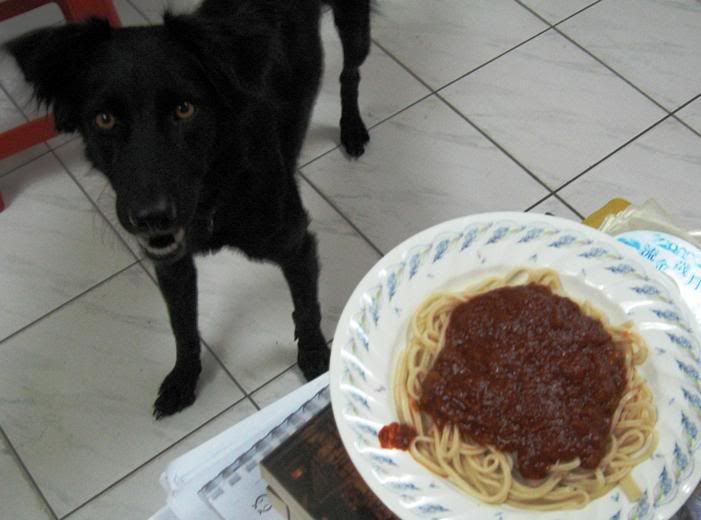 While during dinner time, for the appertiser, we got fresh salad.
The main course is definately the family's favourite black pepper lamb chop. Erm.... we're being too hungry, so no time to decorate the dish. Just eat!

Accompany with the soup-of-the-day, canned-Mushroom soup. Haha..... sorry that we actually use the oriental bowl instead.
Sometimes with too much of western food, you would wish to have some chinese noodles. This is the 'yee mee soup'.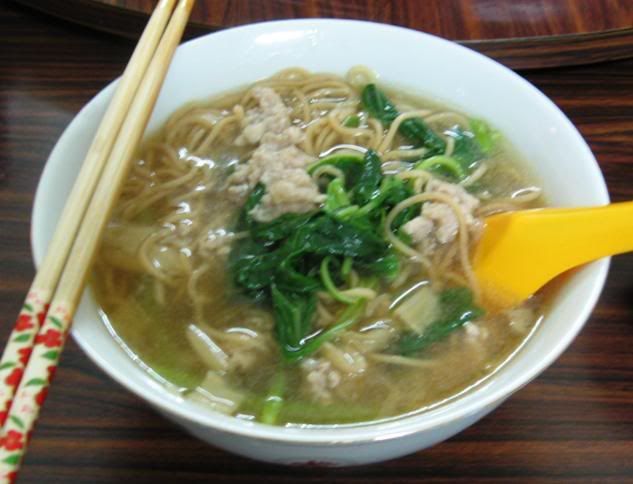 There was also BBQ session.
When they get tired of creating new dishes, they will just settle back to the traditional. Notice there were 2 pots there? This is because we are lazy to wash extra bowls and plates. So why not bring out the pots instead. This is what we called 'Water conservation!'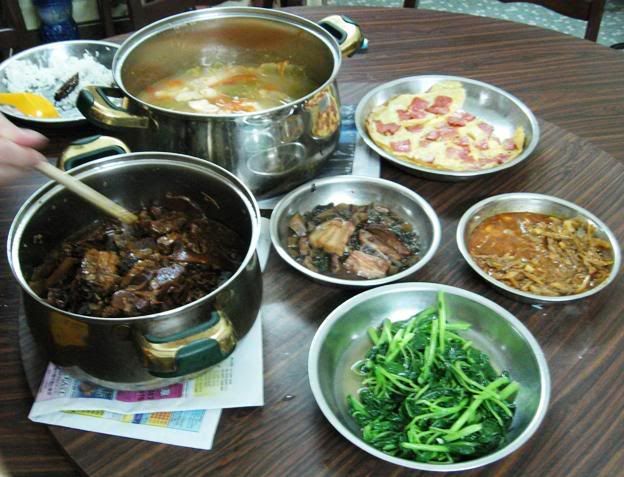 There are times when the men were feeling lazy to cook. We order the pizza delivery instead. I waited patiently at the gate for pizza boy's arrival. Pizza Hut had been doing a promotion lately, if you order through their new online service, you can enjoy the Buy 1 Free 1 promotion. So we manage to enjoy 2 large pizza for approximately RM28.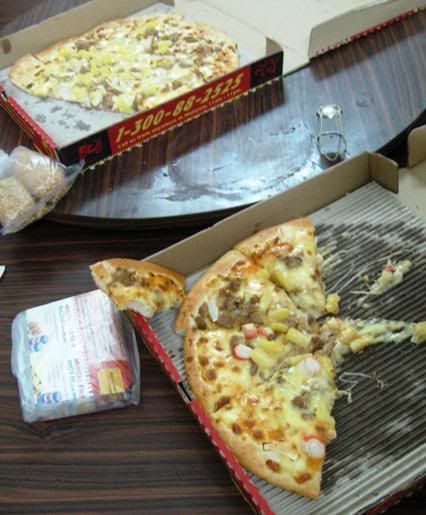 Hey Mr. Naked Brother, alcohol isn't meant for kids below 18 years!! Did you notice that Mr. Daddy is also being naked? But he warned me not to include his face here. So reluctantly I had to cropped him away.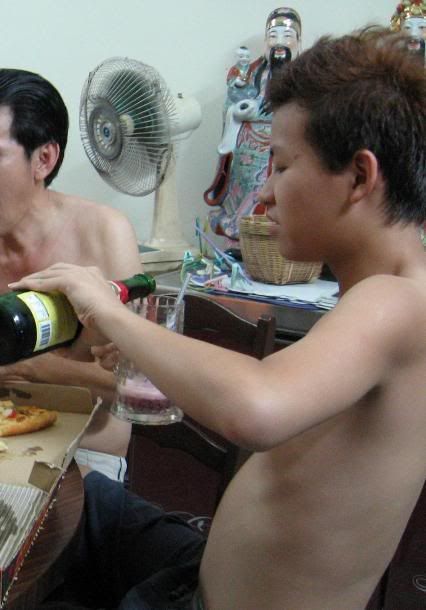 I did got my share, cause I'm GOOOOD..... Here is me, Pacco de Porridge Eater. I'm enjoying my 1st dish of porridge. Slurp. Slurp.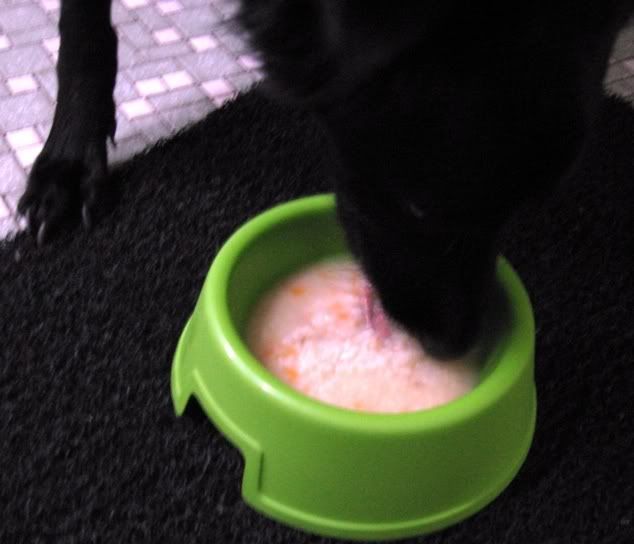 That's all for now. Cause my grandparent have finally back from Aussie on Monday. The responsibility for cooking lies back to grandma. You can't expect senior citizen to enjoy eating extraordinary dishes everyday.