Christmas Eve is here. Since the family members complaint that the traffic tonight must be congested and people were crowded everywhere, we decided to spend the night peacefully at home. While, the family are preparing for a small party for themselves. Ms. Owner keep herself busy with the laptop on lining, wishing her only long-term friend, who was being solo at UK a 'Merry Christmas'. She hope he will complete his Master of Engineering studies soon, so that they could joined the local marathon together again. Paw crossed, hope he could finish it in the shortest time frame possible.
For us, non-Christian, Christmas is a day-off for the family to spend quality time together. This year round, Mrs. Mum bought a cappuccino cheese cake from Secret Recipe and a bottle of champagne.
Mr. Naked Brother pouring out the drinks. Give me more, please.
Finally the cake cutting ceremony by the honourable Mr. Old Daddy. Can I have a bigger portion, please?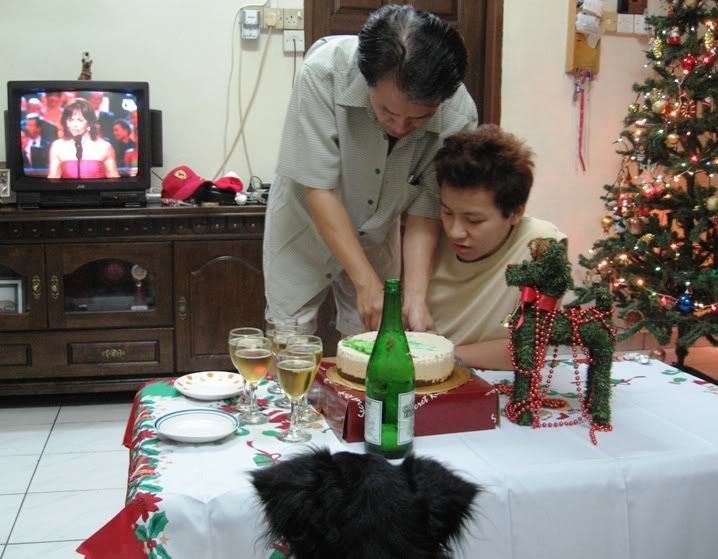 The cheese cake looks delicious, but I was not allowed to eat. They were not sure wether cappuccino is safe for me. Grrr.... who ask you guys to buy cappuccino cake?

So I just enjoyed my drinks then.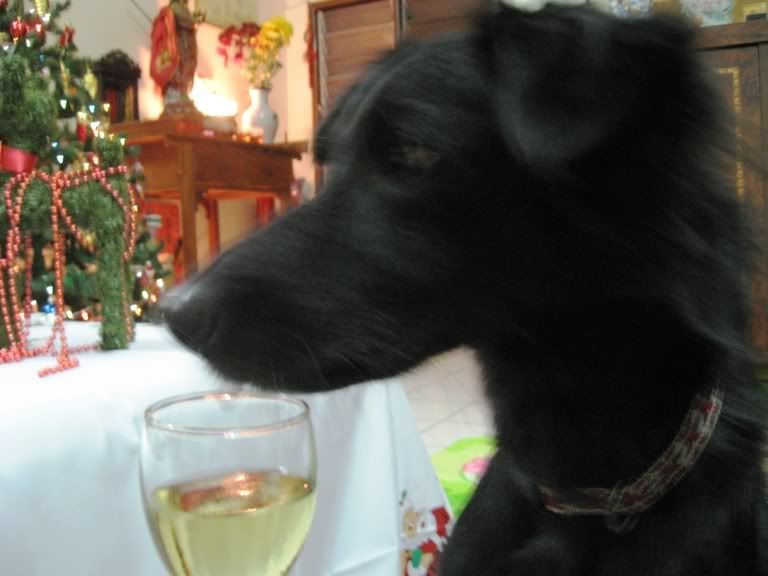 Eventhough, we didn't get to go out for a countdown celebration with friends and pals. But my Christmas Eve is enjoyable enough for me. We still put family as our first priority.

By the way, Ms. Owner got this lovely gift from her colleague. It was a cute-pig-looking-candy, which is too nice to be consumable. So I bet, it would just ended up being in the racks.